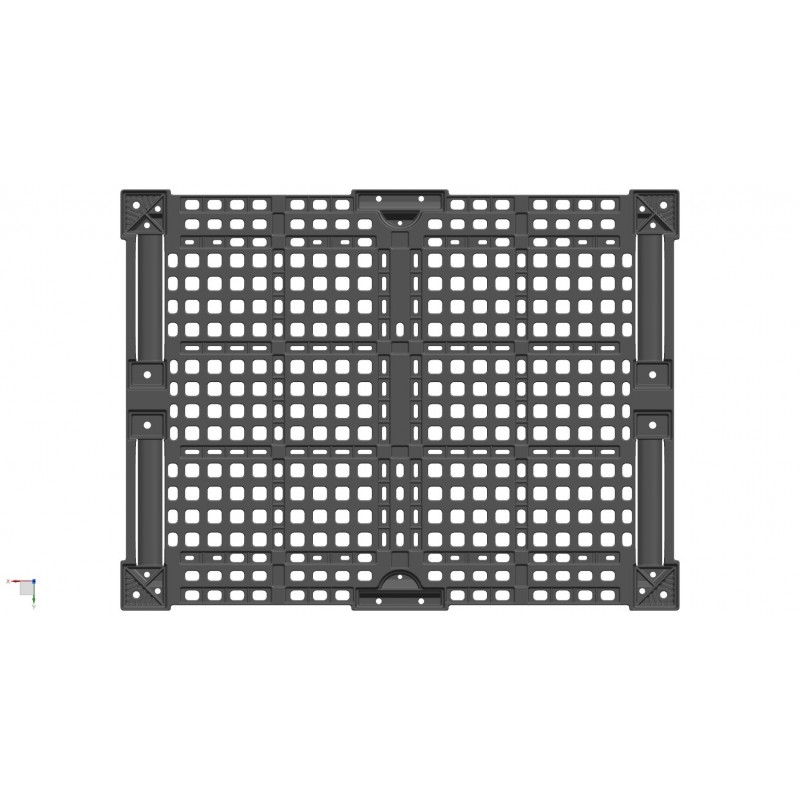 Tradepallet - Plastic pallet
€8.10
(sin IVA)
(0 € con IVA)
Designed for maximum stability in high-strength recyclable plastic, it weighs only 2.9 kg. This plastic pallet is environmentally friendly, free of splinters and nails, does not absorb humidity and is easy to clean. Thanks to its perforated base it ensures the freshness and quality of the transported product. TradePallet is nestable, which means that it can save up to 50% of transport and storage space. 
- Measurement 600x800x150cm
- Weight 2'9kg
- Shipping costs 5€
WHY A PLASTIC PALLET?
In recent years there have been great improvements in the design of plastic pallets and today they are essential in many industries. There are many reasons for migration to plastic pallets.
Light weight
Our plastic pallets are the lightest on the market, which means great logistical savings for companies.
Consistency in measurements and resistance
Because they are manufactured in mold following great quality controls, the precision in dimensions and load capacity always guarantees complete consistency and a top quality product.
Safer handling
Our Tradepallet is much safer to handle. Since parts are not released or chipped, they do not have nails or rivets that could damage the hands of the operators who handle them.
Ecological
Made with 100% recycled polypropylene, it complies with the ecology's three-er rule (reduce-reuse-recycle).
Suitable for hygienic areas
Our Trade Pallets eliminate the possibility of accumulation of impurities in the pallet structure. Wooden pallets can pose a cross contamination problem in hygienic areas and clean rooms.
Easy to clean
Our pallets can be steam cleaned or easily washed to remove any dirt.
 Impermeability
TradePallet does not absorb moisture, even in the most adverse conditions.
An investment for the future
Taking into account the excellent conditions of TradePallet we can say that it is a perfect option to invest in the future of your company. As much for all its qualities as for its price, it pays for itself throughout its useful life.
These pallets also fit perfectly in our three storage solutions for food products: Greenbox G100 Industry, Greenbox G70 Industry and Greenbox G50 Industry.
Data sheet
Anchura

100

Altura

100

Profundidad

100

Peso

100

Composición

Algodón

Estilos

Informal

Propiedades

Manga corta
Technical specifications
| | | |
| --- | --- | --- |
| MP | Family of material | Recycled PP |
| Physical-mechanical | Weight | 2800 GR +-3.50% |
| | Transversal compressive strength | 8000.00-0.00 N |
| | Longitudinal compressive strength | 12000.00-0.00 N |
| | Load resistance (pressure) | without breakage * |
| Dimensional | Total height | 144.00 MMS |
| | Outside length | 790.00 MMS |
| | Outside width | 595.00 MMS |
| Legal | Fitness for contact with food | EC Directive |
* Minimum 2,000 N per support (8,000 N in total)
Optimize the cost of your shipments
At Tradepallet you can buy more for less. To optimize customer costs, we apply volume discounts (the more units you buy, the cheaper the pallet price)
Pedidos de hasta 29 unidades: 7'95€ unidad.
Pedidos desde 30 a 116 unidades: 7'55€ unidad.
Pedidos desde 117 a 174 unidades: 7€ unidad.
Pedidos de más de 175 unidades: 6'85€ unidad.
For large quantity orders, please contact us.
Shipping costs
Los gastos de envío son 5,50€ a península (cualquier cantidad) e islas (hasta 40 unidades*)
* From 40 units, shipping prices to the Balearic Islands, Canary Islands, Ceuta and Melilla rise according to the carrier's rate.
It is also possible to collect your order in our warehouses within 24 hours from the receipt of the order delivery note. In this case, the shipping cost is €0.
Delivery times and order tracking
Delivery will be made within a period of 1 to 3 days (except islands) from the receipt of the order delivery note. The terms will depend on the delivery areas.
Once the order and payment have been validated, we will send you a first order confirmation email. If you do not receive it during the first 24 hours, please contact us.
Important note:
We remind you to check the packaging in the presence of our operators, indicating any anomalies and / or breakages that you notice so that they can be noted on the delivery note. Any claim without annotation on the delivery note will not be accepted.
Claims
For any delay or claim of the order, please contact our customer service department. You can write to us at info@tradepallet.com or call 961 24 01 18 during customer service hours (Monday to Friday from 16-18h).